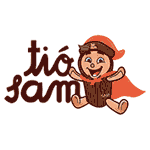 Catálogo de Juguetes de Navidad 2023 de TIÓ SAM
Como cada temporada navideña llega el nuevo Catálogo de Navidad de Juguetes de Tió Sam para el año 2023, la cadena de jugueterías más tradicional de Barcelona y alrededores. En esta edición encontrarás su enorme inventario con todo tipo de juegos y juguetes para niños y niñas, con ofertas válidas hasta el 24 de diciembre de 2023. Con Ofertastico.shop puedes consultar ahora mismo este catálogo en formato digital, completamente online para que puedas planificar de forma cómoda tus compras:
Catálogo TIÓ SAM - NAVIDAD 2023
Válido del 15/11/2023 al 24/12/2023
Las Mejores Ofertas, Promociones y Descuentos Actuales de Juguetes TIÓ SAM en este Catálogo
En este catálogo especial de Navidad 2022 podrás encontrar juguetes tan destacados y más buscados del momento como estos:
Casa de Gabby Juguetes.
Tamagotchi Uni de Tamaverso.
Flamingo The Poop de Little Live Pets.
Kidizoom Duo FX.
Nancy Un Día con Aitana.
Set de Vamos al Cole con Peppa Pig, con pupitres, pizarra y 7 figuras incluidas.
Muñeca Goodnight Coney de Bebés Llorones.
Muñecas The Bellies, diferentes modelos (Bellie Bibi-Buah, Belli Susha-Sweets, Bellie Liz-Achooo, etc.).
Set El cole de Pinypon.
Barbie Super Princesa Dreamtopia.
Muñecas Enchantimals, diferentes modelos.
Lego Super Mario.
Furgoneta la Máquina dle Misterio de Scooby-Doo! de Playmobil.
… y más ofertas en el folleto.
Artículos en Oferta destacados:
¡No te pierdas ninguna oferta vigente hoy en Juguetes TIÓ SAM! 
Últimos Catálogos de Juguetes Populares
Folletos de Ofertas de la Semana Más Buscados